Our Approach
Our proven approach to real estate investing results in speed, low credit risk, and sustainable, outsized returns. Below is a summary of our investment process and the main criteria we target in our investments.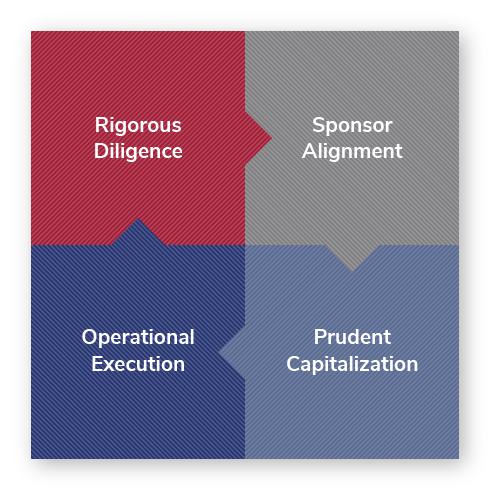 Rigorous Diligence
Durability: Leveraging 40 years of lodging and economic data, we stress-test the durability of our investments under economic shocks and structural dislocation.
Growth: We target markets with underlying fundamentals we believe will generate consistent and pronounced demand growth over the next 5 to 15 years.
Optionality: Our targets must provide optionality for either value-add capital improvement or profitable conversion to an alternative use.
Sponsor Alignment
Gemini was founded solely with internal capital and only proceeds with investments that we would be willing to fund entirely with our own capital.
Gemini's commitment to our investment thesis is demonstrated by its repeated, majority equity stake in approved projects.
Prudent Capitalization
Applying a Sharpe ratio framework, we will only increase leverage if we believe the return premium over an appropriate risk-free benchmark will increase more, on a relative basis, than volatility.
All assets are funded with long-term debt to match our targeted hold period. We stress-test debt service coverage metrics on all acquisitions.
Our debt is balanced with well-laddered maturities. We refinance our loans at least two years prior to maturity to mitigate solvency risk in the event of an extended market contraction.
Operational Execution
Gemini's leadership has over three decades of diverse operational experience that has consistently delivered market leading results.
When appropriate, Gemini will engage top-tier external management companies that have geographic expertise or operational economies of scale.
Gemini manages every aspect of capital projects, including entitlement, design, permitting, and construction. Our line of sight always focuses on clear and measurable goals.